Purchase options for: Unbridled, but Finally Found
[
Go Back
]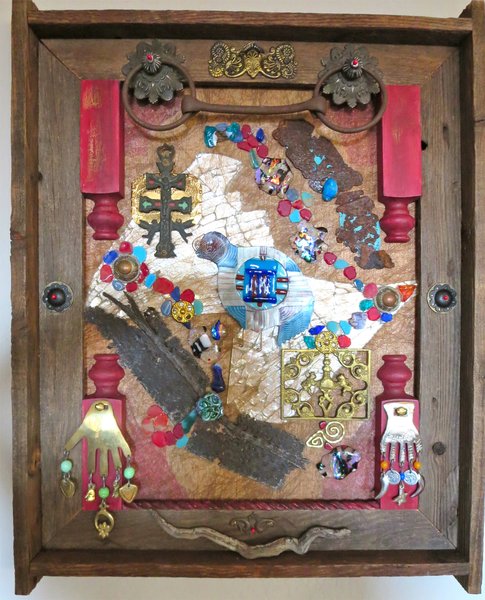 The ingredients for this assemblage were found all over the world!
The rusty metal on the bottom was found on a busy London street by my friend Natalie, who finally gave it to me after treasuring it for a long time. The rusty metal at the top and the drift wood snake were both found on the beach side of Santorini Island in the Aegean Sea. The Caravaca Cross, which is an antique double sided one from Spain, and the brass coat of arms adornment were found at a little antique mart in Barcelona. The sea glass was found somewhere along the Pacific coast. The quail used to be a night light from a glass artist in New Mexico and the dichroic glass pieces are from a glass artist at a bead show. I found the antique horse bit at a rodeo vendor's stall. I found the hands, which are good luck charms, on a horse and buggy in Luxor, Egypt. The broken mirror was found on the floor of a local glass shop! Other adornments and artifacts have been collected over the years! The frame is old fence wood from the Southern San Joaquin Valley in California.
Build your own story:
The quail is a symbol of a contrite spirit, communal love, and higher consciousness. It is Artemis in the Greek mythology, who lived on "Quail Island," and the sacred animal of the Phoenician sun god, Bel. The quail is the early, dewy morning awaiting the first rays of the sun.
The Lion has always enjoyed a high place in heraldry as the emblem of undying courage. The lion, as the king of beasts, signified majesty and kingship from early Roman times. In later use, the lions have become emblematic of strength, courage, and generosity.
The Cross of Caravaca is a powerful amulet believed to ward off evil and increase good fortune, and is said to impart a deep feeling of tranquility. Today it is the custom in Spain and other countries to give a small Caravaca Cross to friends as a symbol of affection, peace and love.
Snakes as Symbols in religion, mythology, and literature often stand for fertility or a creative life force. The ancient Chinese connected serpents with life-giving rain. Traditional beliefs in Australia, India, North America, and Africa have linked snakes with rainbows, which in turn are often related to rain and fertility. For both the Greeks and the Egyptians, the snake represented eternity.
Hands: the hands guard against bad fortune!
The Celtic knot can represent an uninterrupted life cycle. Some may use this symbol as a charm of sorts - warding against sickness or setbacks that might interfere with an otherwise calm and stable life.$1200
* Additional shipping charges may apply. Prices listed are in U.S. Dollars.